100 kg Adjustable Dumbbells Weight Kit (50 kg x 2pcs)
100 kg Adjustable Dumbbells Weight Kit (50 kg x 2pcs)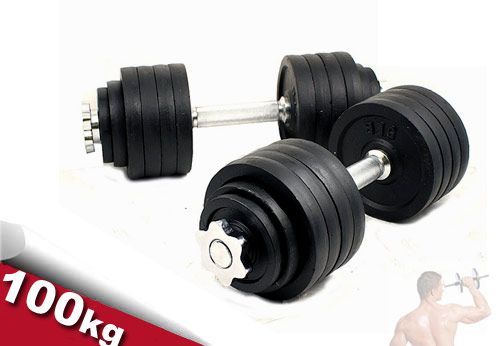 Dumbbell exercises allow complicit muscles to grow in strength together and prevent muscle groups from developing independently and out of sync.
The main benefit to using dumbbell exercises in your workout routines is that on top of exercising the main muscles, dumbbell exercises will also require the input from various stabilizing muscles as well.
This is in contrast to exercising on gym-type machines where main targeted muscles are isolated and are the only ones being utilized.
------------------------------------------------------------------------------------------------------------------------------
Features:
Made of high quality cast iron
Easy to set up and no tools required
Varying weights fits for all kinds of workout training session
Can be setup in variety of incresement (adjustable from 2.5 kg to 50 kg each dumbbell)
2pc x dumbbell handle
4pc x dumbbell spin lock collars
4pc x 1.25 kg cast iron plates
4pc x 2.5 kg cast iron plates
16pc x 5 kg cast iron plates

------------------------------------------------------------------------------------------------------------------------------
Let's list some exercises that you can do with a set of dumbbells.:
Lunges
Sumo Squats
Squats
Toe Raises
Dead Lifts
Bicep Curls
Hammer Curls
Kick-Backs (Triceps)
Shrugs
Front Raises
Side Raises
Presses
Arnold Presses