Body Iron Half rack / Squat Rack S1 (Yellow/Black color)
Sorry, this item is out of stock
Body Iron Half rack / Squat Rack S1 (Yellow/Black color)
Body Iron Power Half rack / Squat Rack S1 design to have deepened the space inside the rack, allowing wide unrestricted movement. Excellent for use with a variety of leg and upperbody exercises including squats, presses, shrugs and chin-ups.
Product Features:
Solid Steel Fat Grip Chin Up Bar
Powder Coated
Straight Pull Ups recommended using counter balance with barbell and weights on barbell hooks to stabilise rack
Barbell Hooks support up to 270Kg
Multiple Peg Holes for Easy Adjustment 15 holes
2 Rear Standard plate holder. But can add Olympic Plates with a Chrome Olympic Adapter Sleeve For $25
Deeper Inside Area for Unrestricted Space when Workout
Multiple Height Settings
Solid Spotter Arms
Reinforcement Plates provide great stability
Great for Squats & Calf Raises
Exceptional Value
2x2 inch Steel Powder Coated
Use with Flat/Incline/Decline Bench
Larger interior makes bench movement easier
Pair of 8cm adjustable safety spotter hooks
Pair of extra Long 30cm adjustable safety spotter hooks
15 position holes for natural lifting Use with a 7 ft Olympic bar or Standard Bar 7ft
Optional Dip Attachment $40
12 months warranty
Approx Measurements:
Width = 124cm
Height = 204cm
Depth = 93cm
Frame is 2.2mm thick steel. Not 1mm or 1.5mm thick steel that our competitors or auction sites sell.
------------------------------------------------------------------------------------------------------------------------------
Kipping Pull Ups (Swinging Pull ups) Not recommended may cause unit to tip over if not counter balanced with barbell and weights on barbell hooks
------------------------------------------------------------------------------------------------------------------------------
Lat/Row Attachment Upgrade $179 :
Powder Coated
Lat Pull support up to 250lbs
Low Row support up to 250lbs
Suitable for Standard Plates but can add Olympic Plates with a Chrome Olympic Adapter Sleeve For $25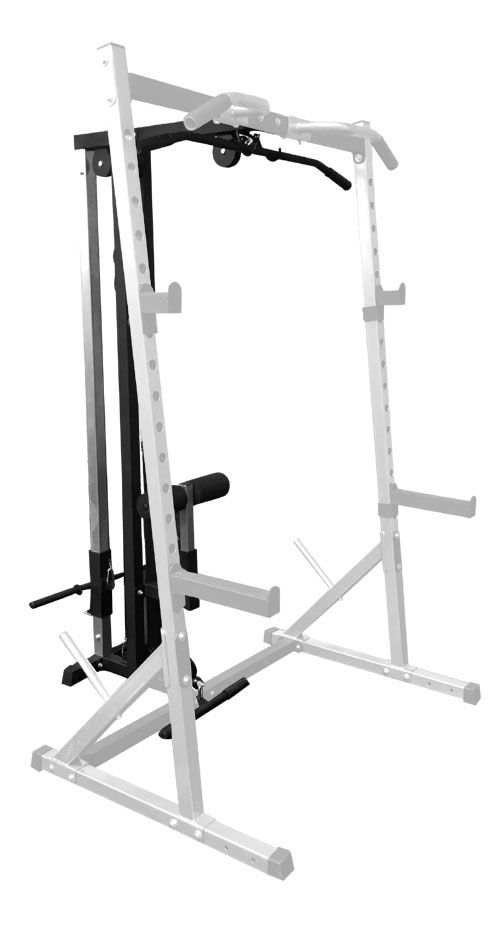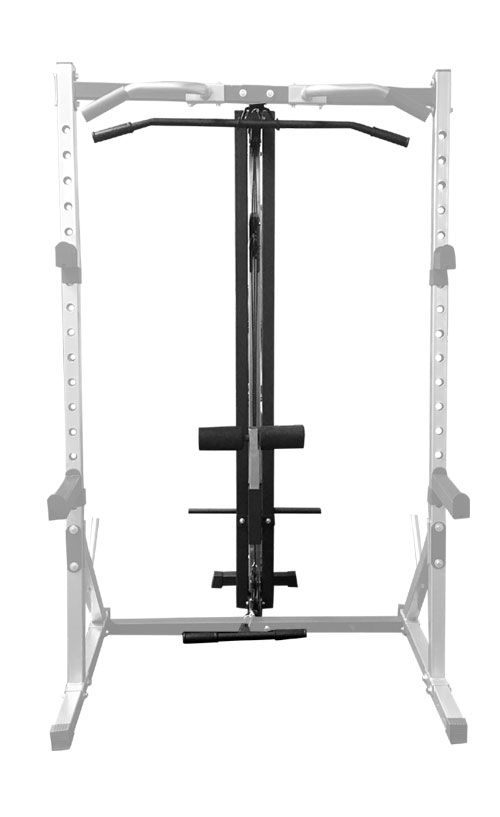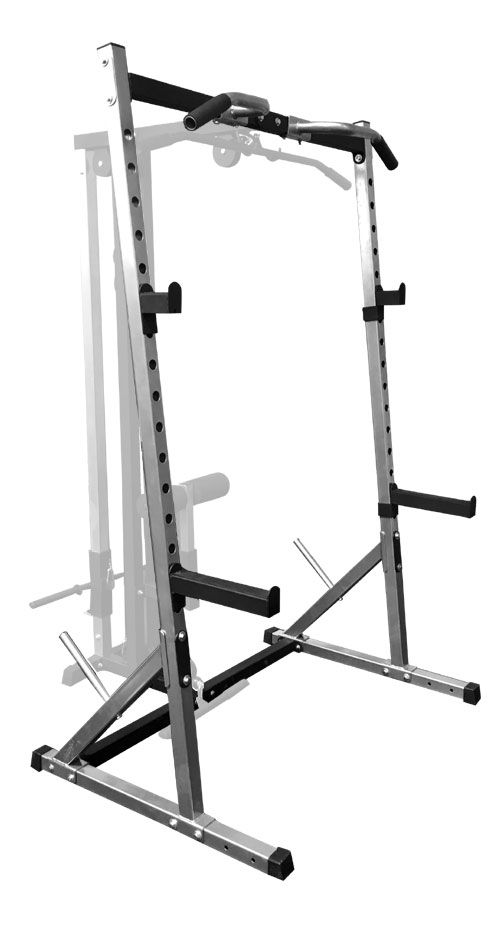 ------------------------------------------------------------------------------------------------------------------------------
Optional Dip Attachment $40 :
Pair Dip Attachment
Can be adjusted to 3 sizes