Body Iron Multi-Purpose Fid Bench Tough V3 (Black Color Frame)
Sorry, this item is out of stock
Body Iron Multi-Purpose Fid Bench Tough V3 
(Black Color Frame)
Don't compromise on quality:
Multi-Purpose Fid Bench Tough V3 might look the same as cheap model out on the market, what you don't see is the quality and strength of the steel and the size of the Fid Bench. The Body-Iron Fid Bench frame is 2.2mm thick steel. Not 1mm or 1.5mm thick steel that our competitors or auction sites sell. Also is 4 way welding not two way like cheap models sold.
Maximum recommended user of weight 300kg not 120Kg Like other models. Some brand on the market say that their products weigh heavy then they are to trick the person buying. They place sand or cement in the steel tube so it weigh more. This will not make your product stronger.
The Body-Iron Fid Bench cushion are 7cm thick High density commercial grade foam other models are 2-3cm only.
This Multi-Purpose Bench bring everyday strength training into your living room with our Multi-Purpose Bench FID. Ideal for barbell and dumbbell exercises, the bench is functional, compact, portable, and durable. The bench offers six starting positions--from a negative degree decline to a positive degree incline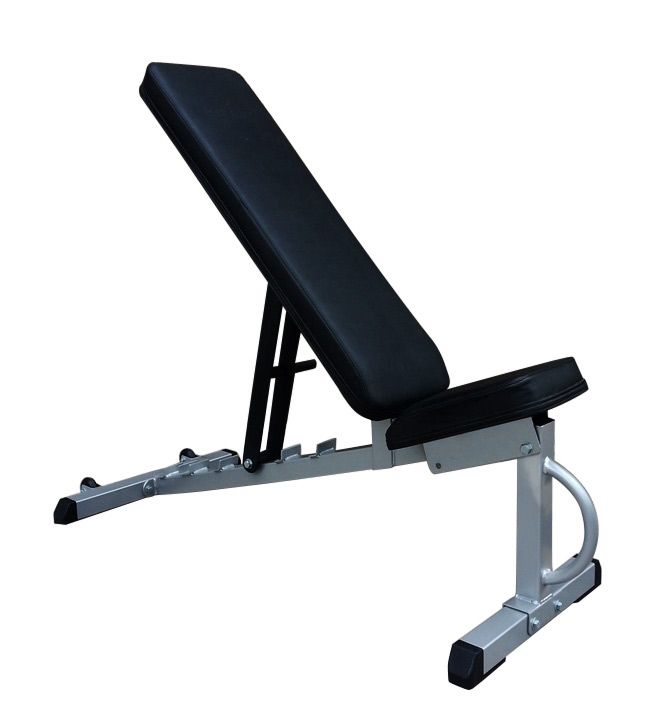 ------------------------------------------------------------------------------------------------------------------------------
Product Features:
Combination flat and incline, bench for barbell and dumbbell exercises
Fully adjustable from Flat to shoulder press
Quick and easy seat and back pad adjustments
Dual rear transport wheels allow for ease of movement
Adjustable rolled seat pad with safety pin ensures correct pivot positioning
Weight Capacity 300Kg
L 137cm W 59cm H 49cm

(Black Color Frame)

12 months warranty

Frame is 2.2mm thick steel. Not 1mm or 1.5mm thick steel that our competitors or auction sites sell.

Buy now and Save!!!!!!!!!!

------------------------------------------------------------------------------------------------------------------------------