Floor Stock Pickup only Melbourne Body Iron Protex II Elite Smith Machine with Linear Bearings
Sorry, this item is out of stock
Please note, a floor model stock is already assembled at the showroom Melbourne Cheltenham and cannot be shipped by regular courier service.
Please ensure to bring your tools and additional assistance to un-assemble the unit to carry out of the showroom.
The staff at the showroom will not provide any assistance with un-assembly or removal of the item due to liability purposes.
All floor model items for sale are as is. We highly recommend inspecting the product in person prior purchase.
________________________________________________________________________________
Body Iron Protex II Elite Smith Machine with Linear Bearings
Protex II Elite Smith Machine with Linear Bearings features ultra smooth linear bearings combined with machined steel guide rods that assure a super smooth movement heavy duty tubular steel frame features a 7-degree slant designed to accommodate the natural upper and lower body movements. Other key features include: Durable Powder coated finish The Body Iron smith machine provides all of the classic strength training exercises such as bench pressing, squats, rows and shoulder press. This smith machine is driven by a bearing system stability and smoothness. A set of adjustable bar catches allow the user to also use a barbell. Adjustable loaded safety catches provide safety at all times
The Smith machine is a piece of equipment used in weight training. It consists of a barbell that is fixed within steel rails, allowing only vertical movement. See our feature lists below with our smith machine compare with others. There are some differences in construction that you need to know before you buy the wrong smith machine and end up with an expensive coat hanger.
------------------------------------------------------------------------------------------------------------------------------
Product features:
Extra heavy duty steel tubing construction
Linear bearing smith system provides smooth movement and feeling of a commercial style
Solid lifting bar
450Kg capacity on bar - 500Kg capacity on weight plate carriage
Heavy duty guide rods with hardened chrome
Upright design to accommodate the body natural path of movement
High quality metallic powder coating
2 Safety squat bars and 6 chrome Olympic plate storage posts
Chin up handles included with out rubber on them
Dimensions 217cm W 135cm D 211cm H
Suitable for Olympic Plates Only
12 months warranty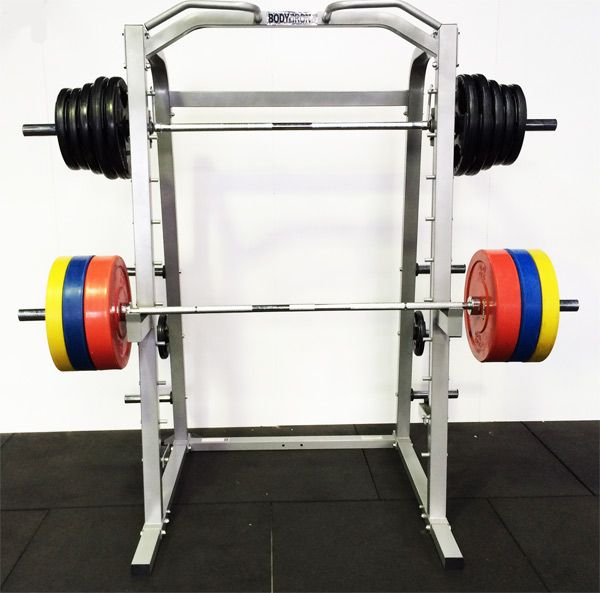 First time use and Maintenance is required for all moving parts. We recommend WD-40's lubricant. To be used on wheel pulleys, ball bearings and cables.
-----------------------------------------------------------------------------------------------------------------------------