Everlast Protex2 Training Gloves Red
Sorry, this item is out of stock
Everlast Protex2 Training Gloves Red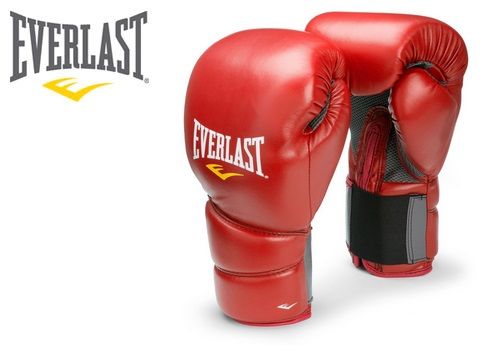 Everlast produces a large quantity of boxing and MMA gloves for all types of training. Boxing-related equipment such as heavy bags, speed bags, and headgear are among other product made by the brand Everlast produces a large quantity of boxing and MMA gloves for all types of training. Boxing-related equipment such as heavy bags, speed bags, and headgear are among other product made by the brand apparel, footwear, and accessories and sold across more than 75 countries worldwide.
------------------------------------------------------------------------------------------------------------------------------
Product features:
Constructed from durable and long-lasting synthetic leather
Features a superior duel support panel for superior wrist protection and comfort
Improved curved anatomical grip and fit
C3 Foam Technology maximizes your grip and punching power while providing increased cushioning and support
EverCOOL strategic air-flow to helps regulate hand temperature.
Size 12oz
Guide to Choosing the Best Boxing Equipment and Gear
Boxing Equipment is a relatively inexpensive sport to get involved with, at least when you are first starting out. You do not need a whole lot of boxing equipment to get started and what you do need, you buy once and it should last you a long time as long as you buy quality boxing equipment like Everlast. All you really need is some basic boxing equipment and a lot of hard work and determination. You are your own equipment and a lot of boxing equipment can be improvised if your budget is tight. Generally speaking, the equipment and supplies you have to buy are more to protect you than anything else. Two Types of Boxing Gloves
1. Bag Gloves (Training Gloves)
Sometimes people talking about boxing gloves are really referring to bag gloves or training gloves. The difference is that bag gloves are for hitting heavy bags and not people. Bag gloves are designed to protect you and not what you are hitting. Bag gloves can be used over wrapped hands or unwrapped hands and are designed to offer some padding and protection against scrapes and contusions while conditioning your hands for progressively heavier impacts. Bag gloves, like boxing gloves, come in a variety of shapes and sizes. Most boxers tend to use a heavier bag glove as a conditioning tool to increase stamina and endurance (especially in the shoulder region).
2. Boxing Gloves
Boxing gloves are used to protect not only you, but your opponent. Most common sizes of boxing glove are sixteen, twelve, ten, and eight ounce sizes (16oz, 12oz, 10oz, 8oz) and can come in a variety of styles. Some boxing gloves are pre-moulded meaning that they are already formed in a fist shape. You slide your fingers into the gloves and they naturally have to curl. Some are not moulded and you have to form the hitting surface. Some boxing gloves are fastened with string, others with velcro.
How do Boxing Gloves Work?
Boxing gloves are made with one thing in mind - force of impact. Force and the reduction of it on impact is what boxing gloves are designed for. A bigger, heavier boxing glove will decelerate and accelerate at a slower rate. This deceleration will reduce the forces involved at impact both on you and your opponent. They will cause less acceleration of the brain inside the skull cavity resulting in less damage. If you know anything about kinetic energy, a bigger boxing glove will transfer less kinetic energy on impact. As well, the increased size of the boxing glove will dissipate the force of impact over a larger area. In short, a bigger boxing glove will cause less damage to you and your opponent.
What Size of Boxing Gloves Should You Buy?
The answer to that question depends on what you are using them for. In general, How to Box recommends you use the following sizes of boxing gloves depending on your boxing activity:

Training: Bag gloves - 12oz for beginners, increase weight to increase intensity and endurance
c. Amateur Fights: depends on the rules of the fight - generally 10oz glove is used
Does Boxing Glove Brand Matter
To some people it does and to some people it doesn't. The top boxing manufacturers, Everlast and Rival all make excellent boxing gloves. There are a lot of other manufacturers that also make good boxing gloves. Boxing gloves you should avoid are the cheaper vinyl gloves. While the price is right, the quality isn't. The material will wear out very quickly and you'll end up buying another pair in the near future. Spend the money now for a quality pair of boxing gloves for your purpose and you shouldn't have to invest in another pair anytime soon.