Reebok 40 Mega Set GB40 Bike - GX40 Crosstrainer - GT40 Treadmill
Reebok 40 Mega Set GB40 Bike - GX40 Crosstrainer - GT40 Treadmill
------------------------------------------------------------------------------------------------------------------------------
Reebok One GB40 Exercise Bike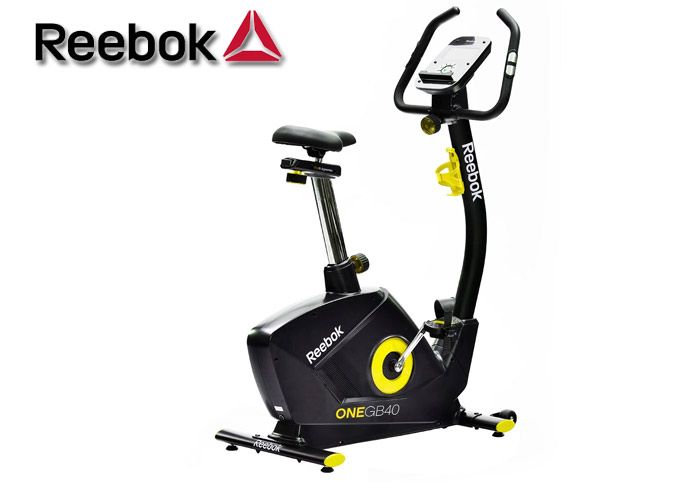 The Reebok GB40 Exercise Bike offers fantastic features for excellent value. The sizeable 6kg flywheel provides a smooth cycling motion for when you are working out to one of the 4 fitness programmes, which are easily adjusted through the console without interrupting your workout to keep you focused and motivated throughout.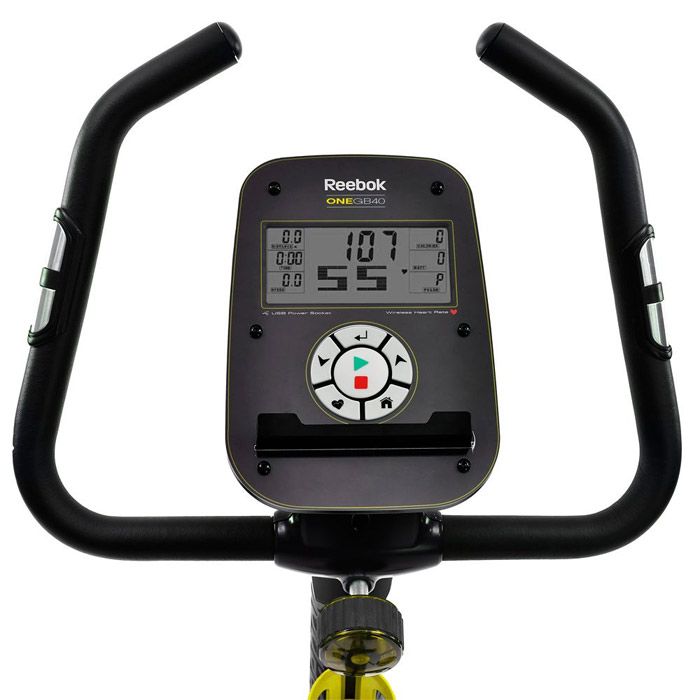 With the bright, easy to use LCD screen, the Reebok GB40 Bike allows you to easily view your vital stats such as time, distance or calories burnt, or keep track of your pulse rate with the conveniently located hand pulse sensors on the GB40 Bike handlebars. Added features such as the adjustable saddle, handlebars and footstraps ensure you have an enjoyable, comfortable and efficient workout..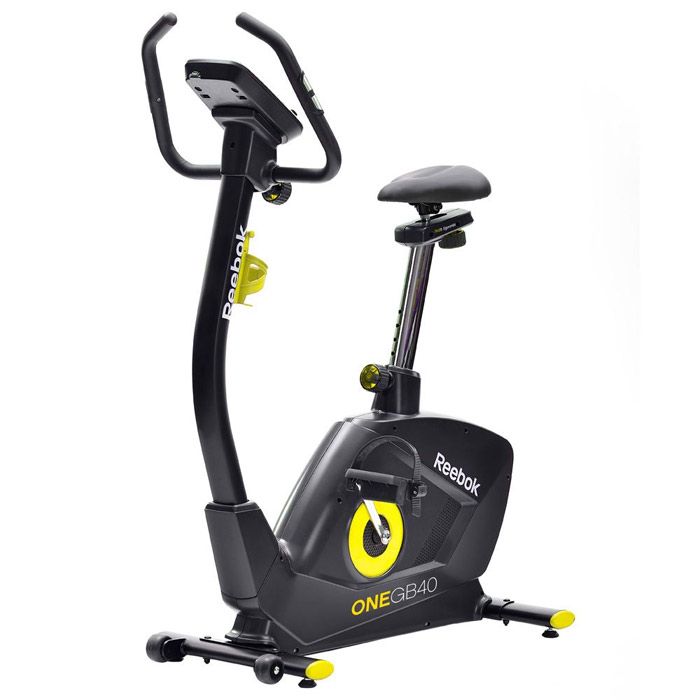 Cycling is seen as a great workout for a number of different muscles including the glutes, hamstrings and quads. The 8 different manual resistance levels can help you target these muscles progressively ensuring you are in control of your workout and intensity level for a balanced yet challenging cardiovascular workout.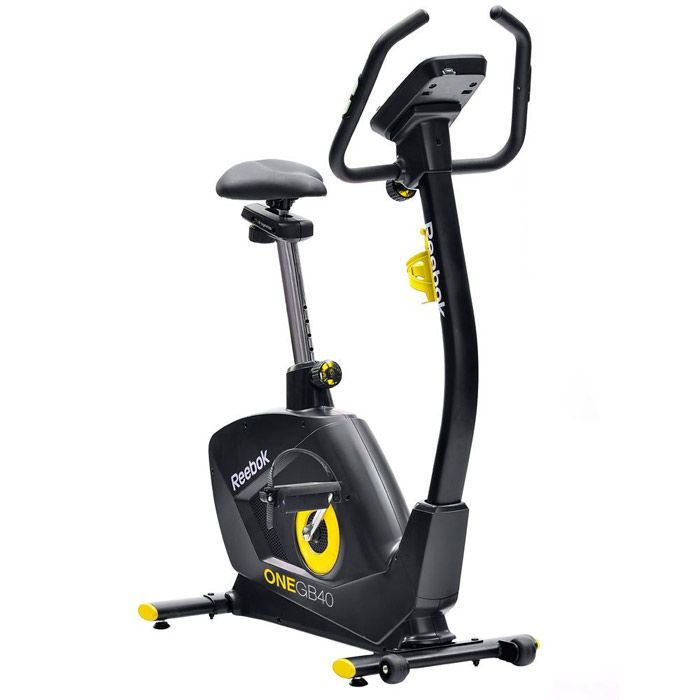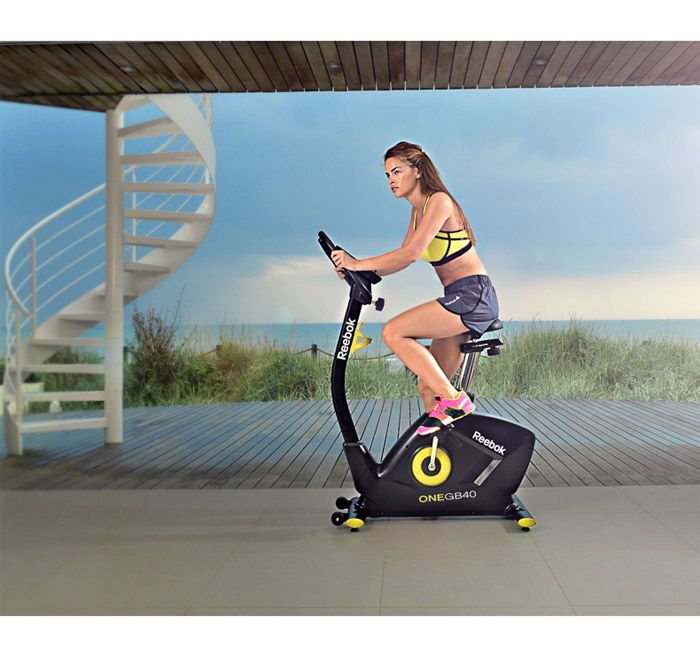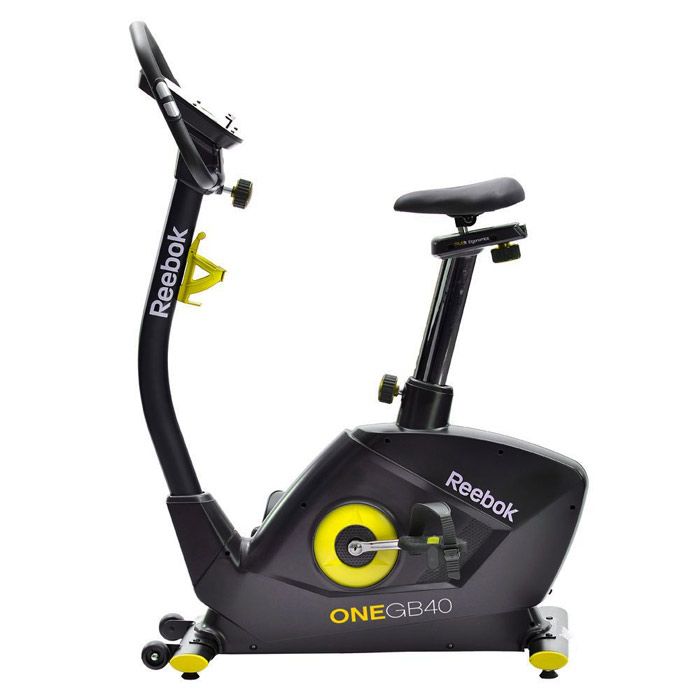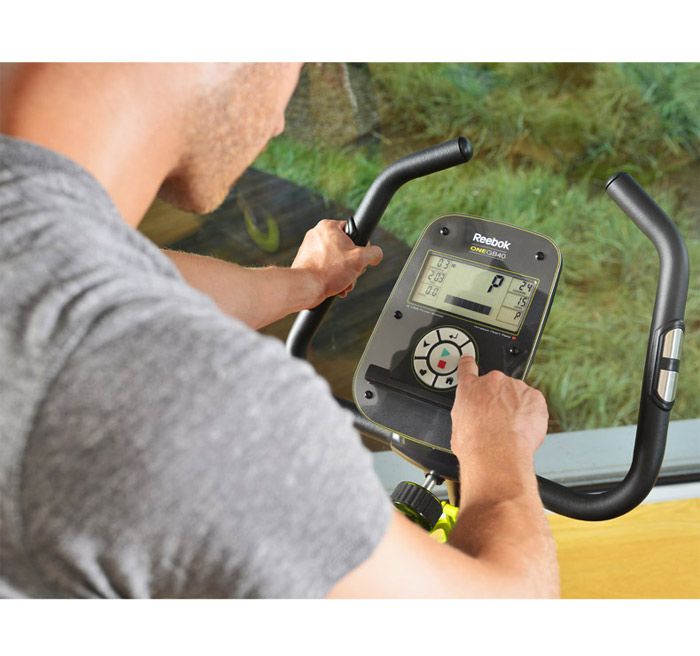 With our Reebok Exercise Bikes, we are committed to quality which is why we offer a 1 year warranty on parts and 1 labour.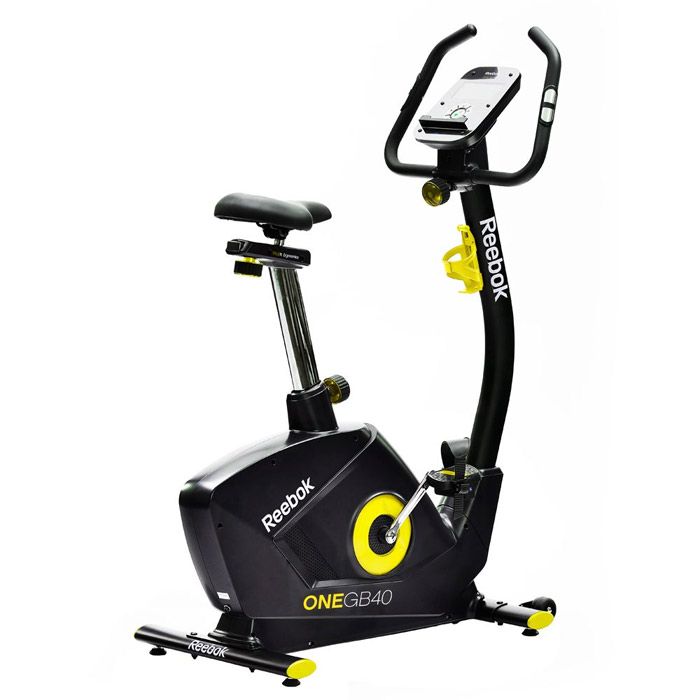 ------------------------------------------------------------------------------------------------------------------------------
Specifications
6kg Flywheel Weight
4 Console Programs
8 Levels of Manual Resistance
Hand Pulse Sensors
Single LCD 131x67 mm
Vertical and horizontal seat adjustment
Seat height range 66-90cm
110kg Max User Weight
Setup dimensions 100 (L) x 52 (W) x 130cm (H)
Product Weight 33 kg
Real Warranty
Real Warranty
1 Year Parts
1 year In home labour
------------------------------------------------------------------------------------------------------------------------------
Sale Reebok One GX40 Crosstrainer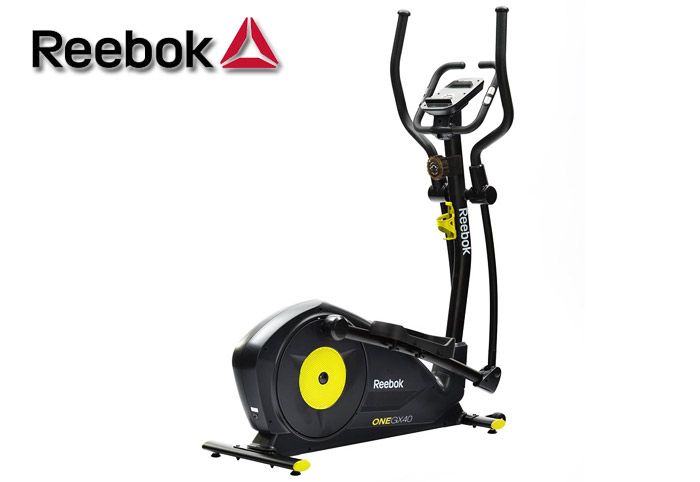 The Reebok GX40 Cross Trainer provides all round fitness for an excellent cardiovascular workout to help tone both your upper and lower body without impacting your joints. A benefit of the GX40 is the presence of both fixed and action handlebars, which allow you to vary your workout by integrating upper body movements to suit your favoured workout positions, while increasing the intensity of the exercise.
The LCD display provides user feedback including speed, time, distance, calories burnt and pulse so you can keep track of your workout statistics. The console also houses a number of features including 4 workout programmes and a built in phone/MP3 holder so you can listen to your favourite music throughout your workout.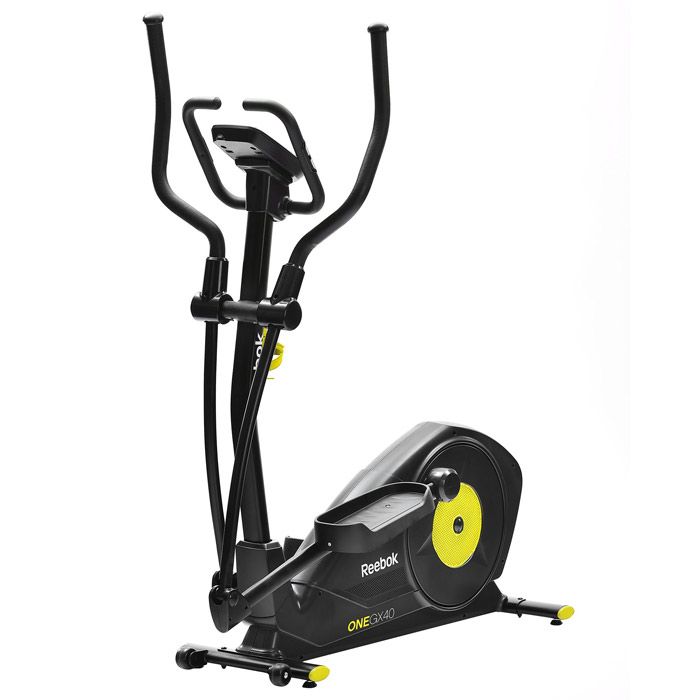 The Reebok GX40 Cross Trainer has an excellent 15" stride length, non-slip adjustable footplates and a 6kg flywheel to provide a smooth motion for every workout session.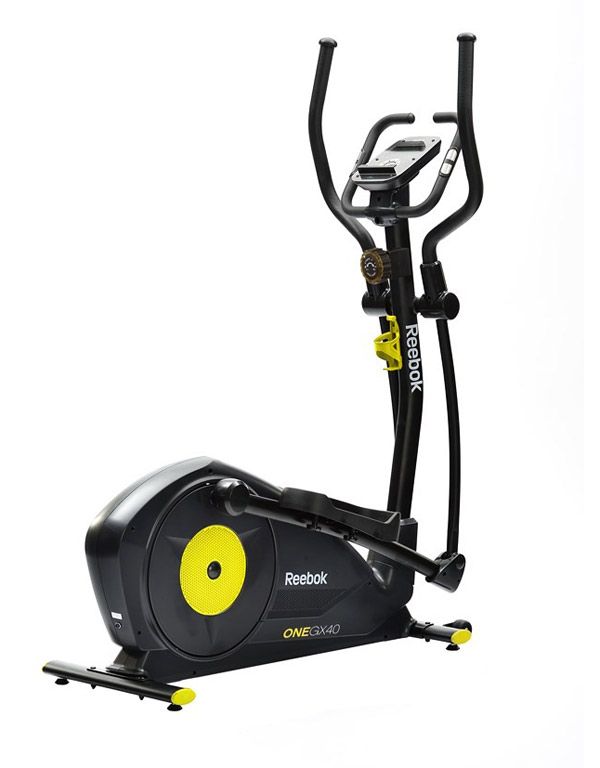 There are 4 programmes to choose from, plus the addition of 8 different manual resistance levels to help you tailor your workout to your own needs, resulting in a varied and challenging exercise programme.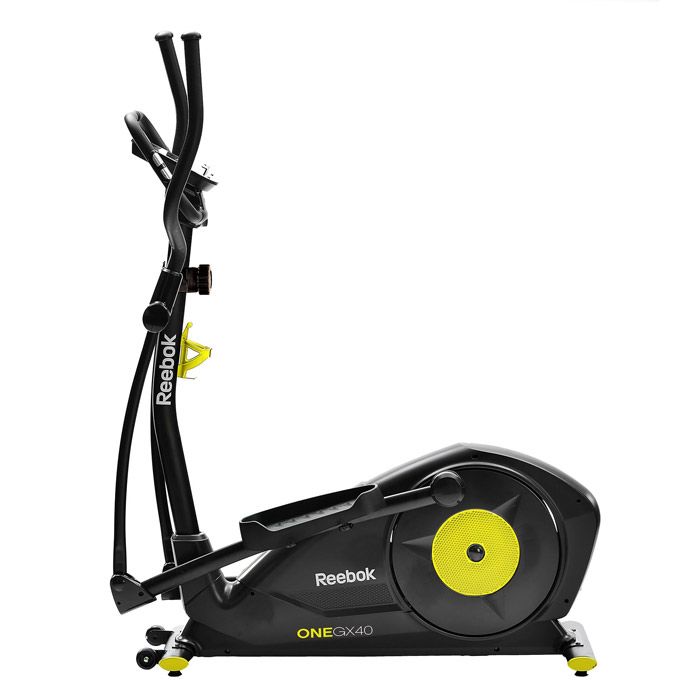 With our Reebok Cross Trainers, we are committed to quality which is why we offer a 1 year warranty on parts and  1 year labour.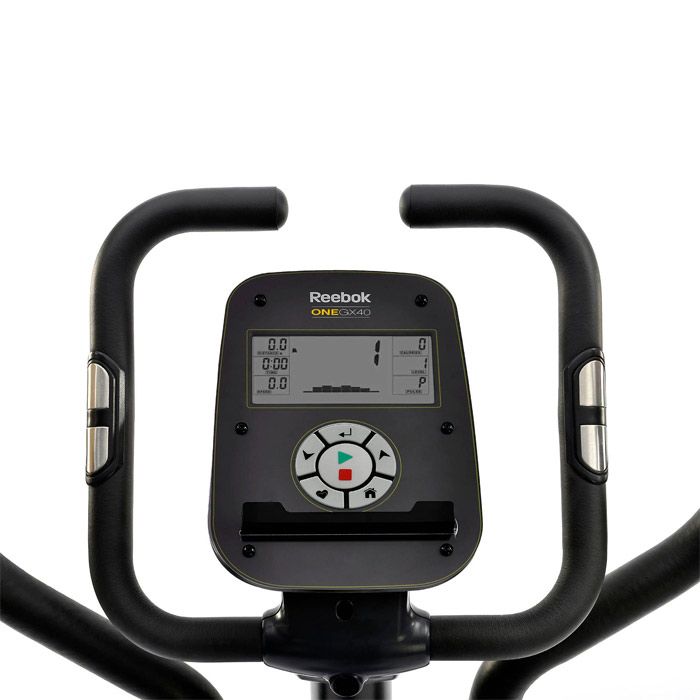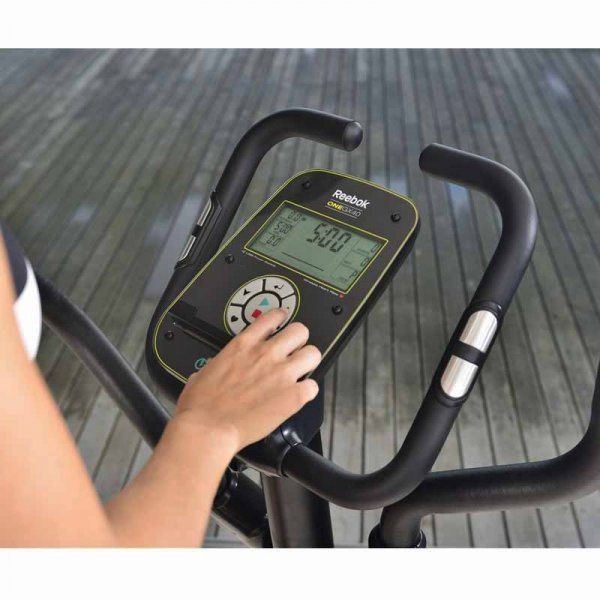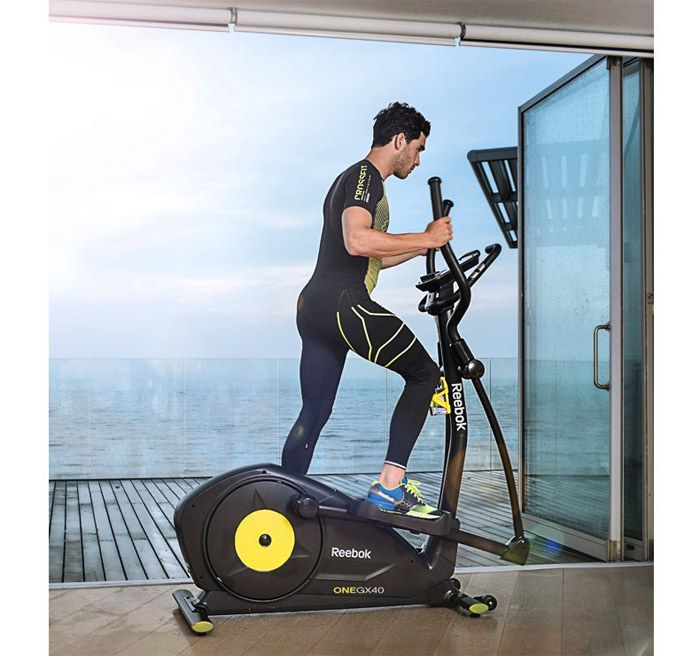 ------------------------------------------------------------------------------------------------------------------------------
Specifications
15" stride length
6kg flywheel weight
8 levels of manual resistance
Hand pulse sensors
Console Feedback: Speed, time, distance, calories, pulse, RPM, clock
Programmes: 4 (including time, distance, calories, manual)
131 x 67mm LCD display
120kg max user weight
Setup dimensions 143 (L) x 64 (W) x 167cm (H)
Product Weight 49 kg
Real Warranty
Real Warranty
1 Year Parts
1 Year In home labour
------------------------------------------------------------------------------------------------------------------------------
Reebok One GT40 Treadmill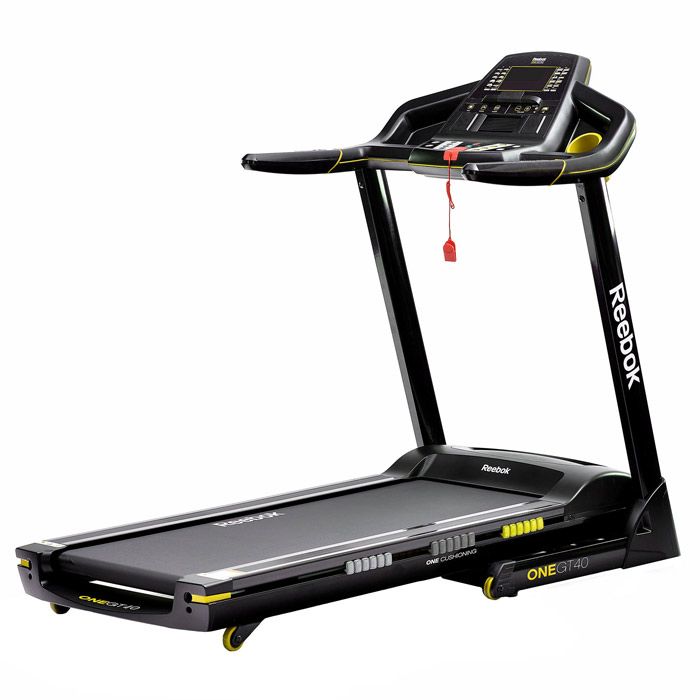 The Reebok GT40 Treadmill offers excellent value as a piece of exercise equipment with no compromise on features. A large 7" LCD display with quick speed and incline buttons provide easy access for a varied treadmill workout, with all the expected user feedback functions including speed, time, distance, calories, pulse and incline.
The inclusive features housed within the console offer excellent variety with 16 console programmes, a max speed of 16km/h and 12 levels of electronic incline, all supported by the 2.0HP motor. Enhance your workout with the built in pulse sensors to track your heart rate or run to the beat with the integrated MP3 input and speakers, which allow you to listen to all of your favourite tunes while completing one of the many pre-set programmes on the Reebok GT40 Treadmill.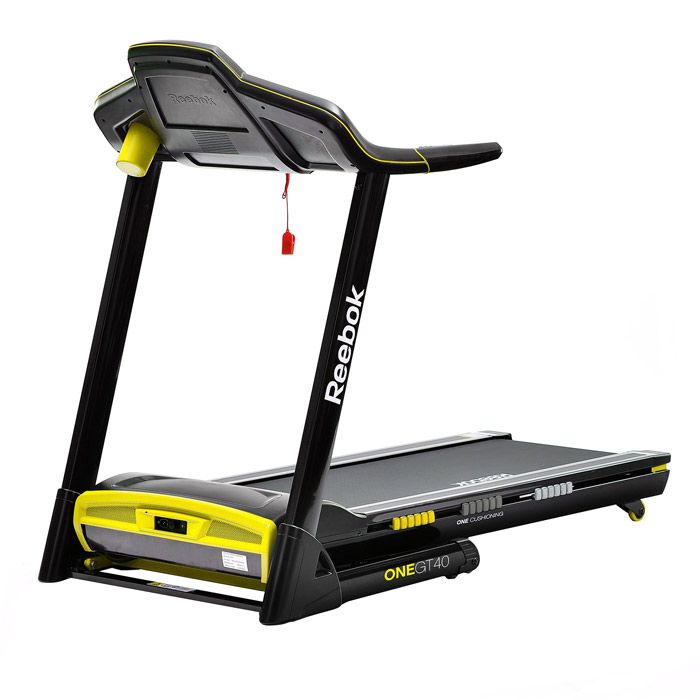 The running area of 43 x 130cm provides ample space for long distance runs, which is further enhanced by the unique ONE Series cushioning system, designed to deliver a smooth, comfortable running experience. The soft-drop folding function provides extra convenience and safety while the built in transport wheels allow you to move the treadmill around easily and efficiently.
The GT40 treadmill provides you with all of the necessary feedback including speed, time, distance, incline, calories burnt and through hand pulse receivers you can keep track of your heart rate for the most efficient workout yet! We know that staying motivated during your workout is very important – which is why the GT40 treadmill has a range of features to keep you motivated.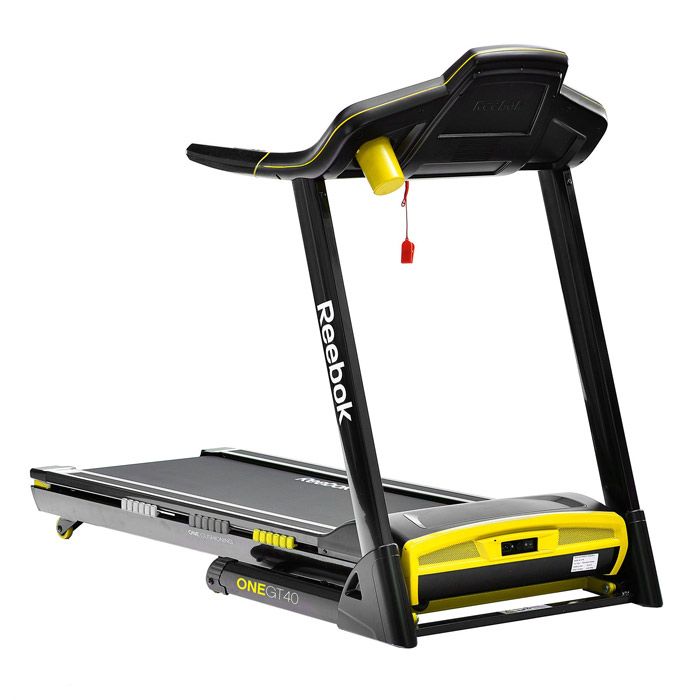 The built in MP3 input and speaker system lets you listen to all your favourite workout tunes throughout your workout, while the integrated cooling fan will keep you fresh and cool to run for longer. Treadmill running can actually help you tone and strengthen muscles as well as being one of the best cardiovascular exercises around. With easily controlled speed and incline levels, you can work your muscles more effectively than an outdoor running.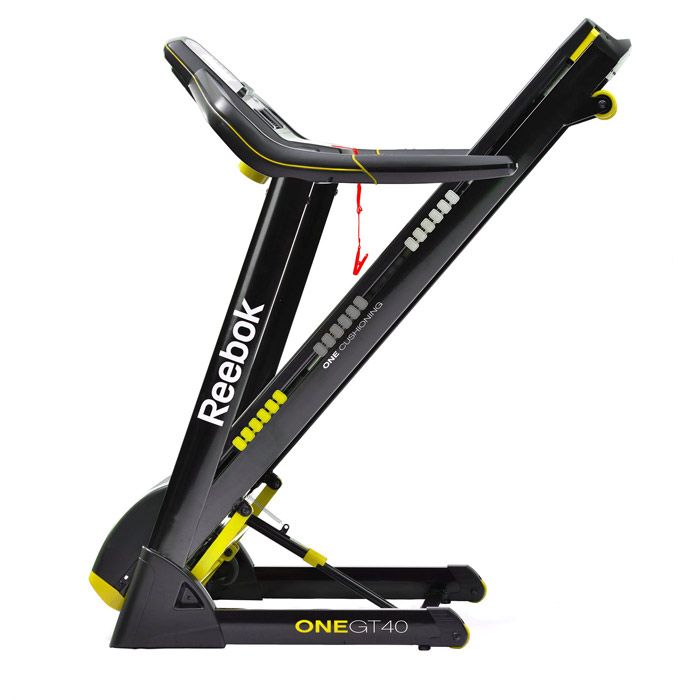 Reebok ONE Series Cushioning takes the natural gait cycle of running and divides it up into three distinct transitional zones, which are built into the treadmill running deck. These zones are designed to mimic the natural movement and transition of the human foot, helping to make runs more efficient and comfortable. The three zones work seamlessly together within the single running deck, hence the name ONE
The first zone at the front of the running deck helps to address CONTACT in the heel by featuring a soft reactive surface, which immediately absorbs the impact on strike. The second MIDSTANCE zone ensures the natural transition of the foot is a smooth and seamless one. The third PROPULSION zone at the rear of the running deck is equipped with a firm, responsive surface, which delivers forward energy during the toe-off phase. With our Reebok Treadmills, we are committed to quality which is why we offer a 5 year warranty on the treadmill motor and a 2 year warranty on parts and labour.
------------------------------------------------------------------------------------------------------------------------------
Specifications
2 HP motor
16kph Max Speed
ONE Series cushioning
Running Belt: 1.6mm thick
Hand Pulse Sensors
Incline Levels: 0-12 with quick incline controls
130 x 43cm running area
> Assembled dimensions L 173cm x W 79.6cm x H 136cm
Folded dimensions: 110 x 90 x 159cm
Speed and incline handlebar controls
7" LCD display screen
Heart rate control
Console Feedback: Speed, time, distance, calories, pulse, incline
Programmes: 16 console workouts (including target time, distance, calories, body fat, heart rate control, manual)
MP3 input with built in speakers
Folding design
Soft drop mechanism
Auto stop safety system.
Max user weight 120kg
Product Weight 88 kg
Real Warranty
Real Warranty
2 Year Motor and Drive System
1 Year Parts
1 Year In home labour
------------------------------------------------------------------------------------------------------------------------------
Important note for delivery:
If you are getting an order delivered to a residential address where you do not have access to forklift, please choose option: 'Shipping Tail Gate $89.00'. If your order is going to a business location where you have a forklift, please choose option: 'Showroom Pickup Melbourne'. Hence you will not be charged for the tail gate service.
If you are organizing your own pick up, please choose option: 'Showroom Pickup Melbourne'