Reebok One GT60 Treadmill
Reebok One GT60 Treadmill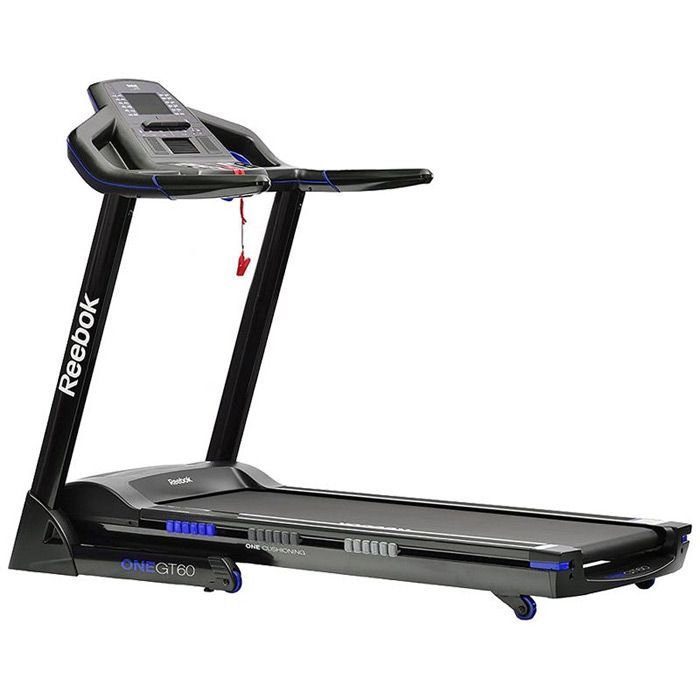 The Reebok GT60 Treadmill boasts a wide range of features to provide a well-rounded piece of fitness equipment for the Reebok ONE Series. A powerful 2.5HP motor provides a max speed of 20km/h for the more than ample 145 x 51cm running range with ONE Series cushioning to provide you with a natural, comfortable running platform.
The stylish 7" LCD display is the centre of the Reebok GT60 treadmill and controls a number of the key features the GT60 has to offer. 15 different incline levels provide an excellent choice of intensity combinations to cater for all levels of fitness. For those who want to get on and go, the Reebok GT60 also boasts 34 different console programmes which combine different inclines and speeds for a varied workout time and time again. Want to keep track of your progress?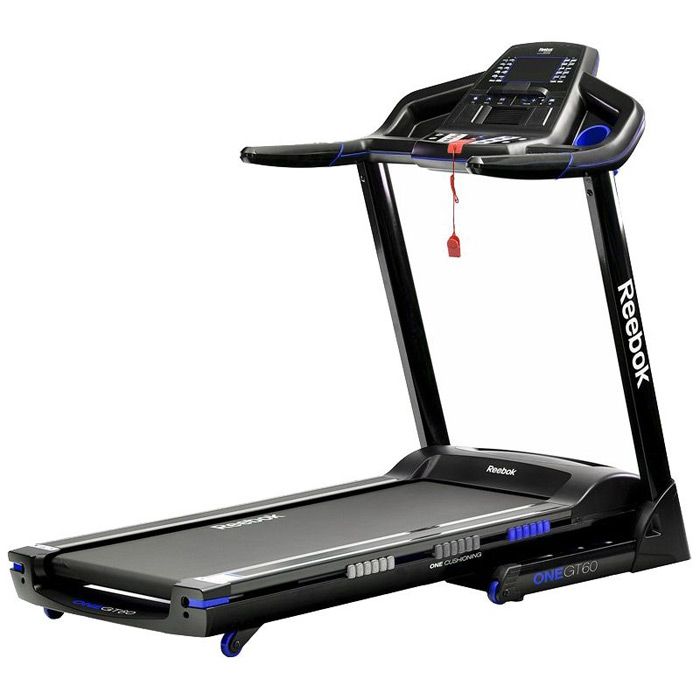 The spacious 51cm x 145cm running area of the Reebok One GT60 Treadmill provides a solid and comfortable running deck for the most advanced users with a maximum weight of 140kg.
The GT60 treadmill provides you with all of the necessary feedback including speed, time, distance, incline, calories burnt and through hand or wireless pulse receivers you can keep track of your heart rate for the most efficient workout yet! We know that staying motivated during your workout is very important – which is why the GT60 treadmill has a range of features to keep you motivated.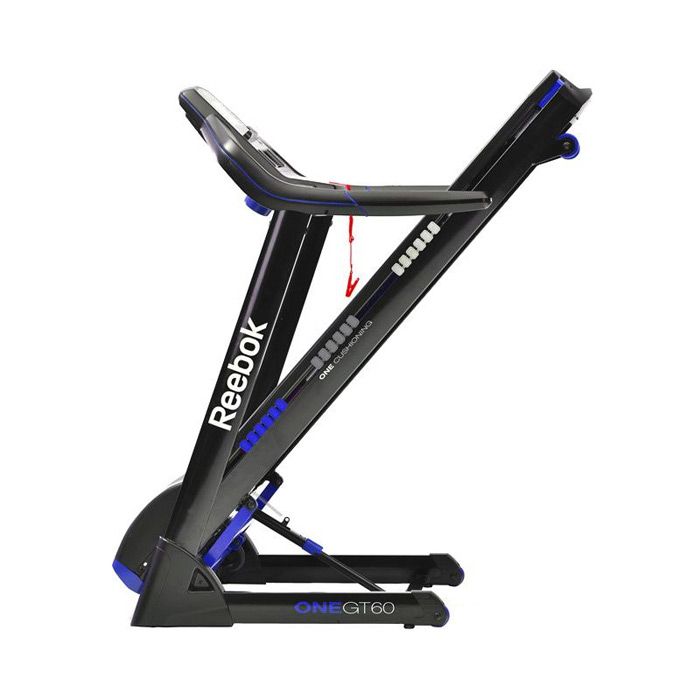 The built in MP3 input and speaker system lets you listen to all your favourite workout tunes throughout your workout, while the integrated cooling fan will keep you fresh and cool to run for longer. Treadmill running can actually help you tone and strengthen muscles as well as being one of the best cardiovascular exercises around. With easily controlled speed and incline levels, you can work your muscles more effectively than an outdoor running.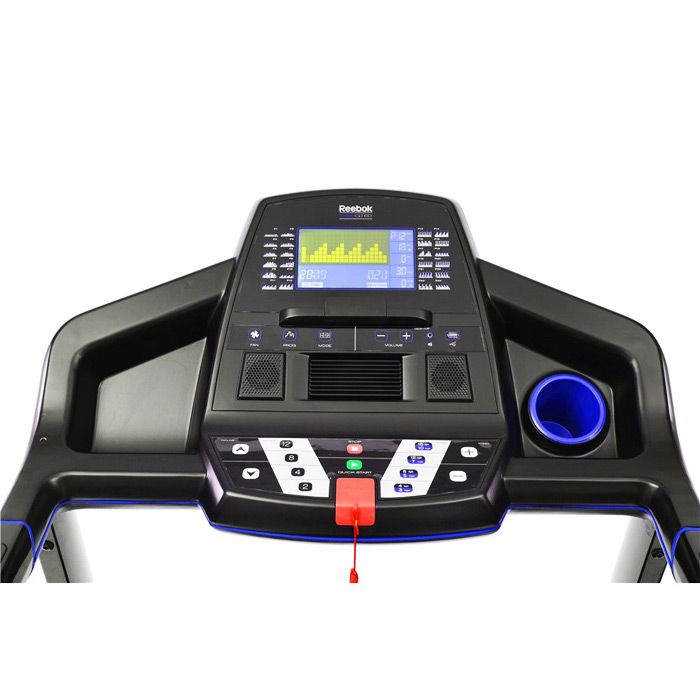 Reebok ONE Series Cushioning takes the natural gait cycle of running and divides it up into three distinct transitional zones, which are built into the treadmill running deck. These zones are designed to mimic the natural movement and transition of the human foot, helping to make runs more efficient and comfortable. The three zones work seamlessly together within the single running deck, hence the name ONE
The first zone at the front of the running deck helps to address CONTACT in the heel by featuring a soft reactive surface, which immediately absorbs the impact on strike. The second MIDSTANCE zone ensures the natural transition of the foot is a smooth and seamless one. The third PROPULSION zone at the rear of the running deck is equipped with a firm, responsive surface, which delivers forward energy during the toe-off phase. With our Reebok Treadmills, we are committed to quality which is why we offer a 5 year warranty on the treadmill motor and a 2 year warranty on parts and labour.
------------------------------------------------------------------------------------------------------------------------------
Specifications
2.5HP Rating (Continuous) motor
20kph Max Speed
ONE Series cushioning
Running Belt: 1.8mm thick
Roller Spec. Front:Φ63*675mm Rear:Φ63*633mm
Cooling: Fan integrated
Wireless Pulse Receiver plus Hand Pulse Sensors
Incline Levels: 0-15 with quick incline controls
145 x 51cm running area
Set up dimensions: 194 x 92 x 137cm
Folded dimensions: 130 x 92 x 155cm
Speed and incline handlebar controls
7" LCD display screen
User profiles
Heart rate control
Console Feedback: Speed, time, distance, calories, pulse, incline
Programmes: 34 console workouts (including 24 pre-set, target time, distance, calories, body fat, heart rate control, manual)
MP3 input with built in speakers
iPod Connectivity (via wire)
Speaker Spec. Yes 5W competitors have 2W Speakers
Folding design
Soft drop mechanism
USB charger
Auto stop safety system.
Max user weight 140kg
Product Weight 103 kg
Cartons Dimensions (cm) 225 (L) x 97 (W) x 38 (H)
Real Warranty: 5 years motor, 2 years frame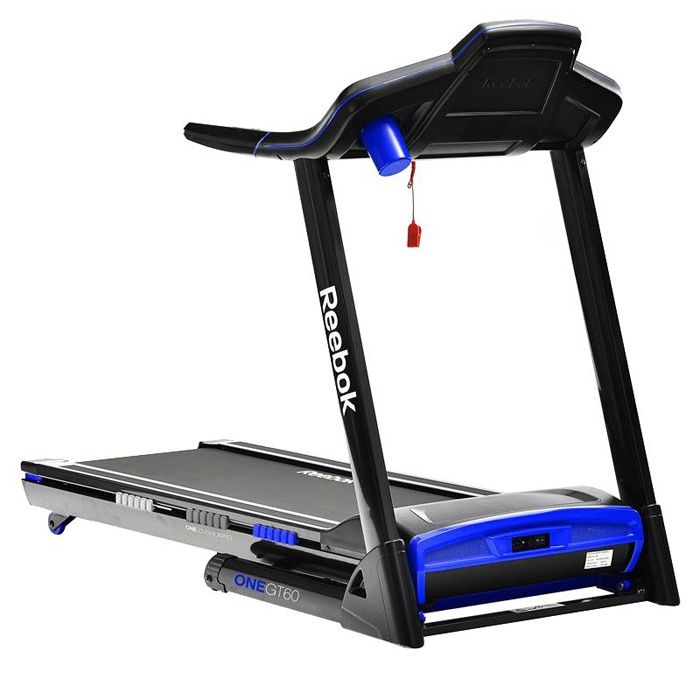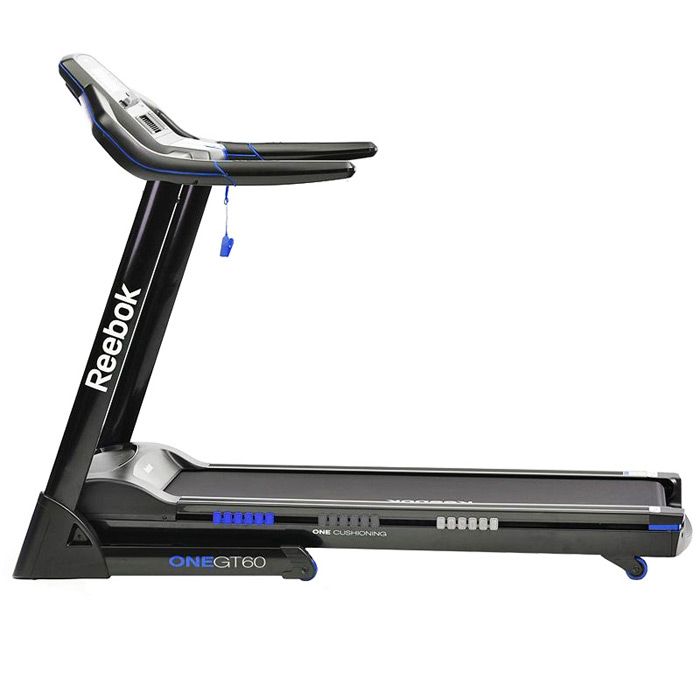 ------------------------------------------------------------------------------------------------------------------------------
(Truth about Treadmills. You get what you pay for.):
(Cheap Treadmills):
1. So the truth is you are getting only 12 months return to base warranty; not in home labour warranty.
2. The cheap treadmill manufacturers are not confident that the treadmill will last more than 12 months.
3. The cheaper treadmills have very low weight capacity. The motor, belt, deck, rollers, bearings and electronics are constantly struggling to keep up with the strain, especially if the user is overweight.
4. Generally, inferior quality cheaper treadmills may not be sturdy, and they may not provide smooth, comfortable workout to protect your joints.
5. Cheaper inferior quality Treadmills require you to constantly adjust the running belt as it tends to lose tension. These cheap treadmills need to be constantly lubricated with silicone spray, and require more electricity to operate.
6. These inferior quality Treadmills are not meant to last long, and designed for short term use. This is to luring you into buying a new one every year.
7. In case of warranty, with a cheap treadmill you will need to send it to the supplier and have it repaired and then sent back to you. You will need to pay for these shipping expenses out of your own pocket. Shipping could cost you over $300 on top of the repair cost. So you could be out of pocket more than $600.
8.Many retailers sell treadmills that are made with very inferior quality material that weigh very light with little structural stability. These retailers will offer you cheap or even free shipping because of the light weight of the poor quality made treadmills. The general industry standard among quality treadmill manufacturers is that a treadmill can handle an average 35% - 40% on top of its net weight. This means, if the net weight of a treadmill is 100 kgs, it can handle a maximum of 135 kgs of user weight. If you consider the weight of these cheaply manufactured treadmills weighing 60 kgs and less, ideally they can only handle 80 kgs of user weight; not 160 kgs advertised. The best way to work out the maximum user weight capacity of a treadmill is to multiply it's net weight with 1.35.
(Reebok Treadmills):
1. Silent motor allows you to use it at any time you like.
2. These high quality treadmills use significantly less electricity.
3. These Reebok treadmills have much wider and longer running deck.
4. 5 year unconditional coverage on motor and drive systems.
5. 2 years on all other parts and the most important thing is 2 years
6. Onsite labour on all other parts. Because if your treadmill breakdown the manufacturer will send a qualified technician to come to your location to repair it.
8. A reputable treadmill manufacturer like Reebok is not scared to give you on site labour warranty as they have confidence in the quality of their product.
9. Reebok is a highly reputed multi-national company. This brand represents high-end quality and will only associate with quality products.

------------------------------------------------------------------------------------------------------------------------------
Real Warranty
5 Year Motor and Drive System
2 Years Parts
1 year In home labour