. Reebok Sale Titanium TXF3.0 Cross trainer Black
Sorry, this item is out of stock
Reebok Titanium TXF3.0 + Bluetooth Cross trainer Black
The top of the line Reebok Titanium Series TXF3.0 Crosstrainer has a front drive mechanism with two independent motion rollers resulting in a smoother, more challenging workout than a traditional rear drive machine.
The TXF3.0 continues to deliver one of the best total body workouts as it targets both the upper and lower body simultaneously while working all the essential muscles that contribute to core stabilisation.
The low impact nature of the TX3.0 + Bluetooth makes it ideal for those users with sensitive joints as the trainer comfortably supports the legs throughout the increased 19.5" stride length of exercise while giving a more serious cardio workout.
The robust 10kg flywheel has been moved to the front, which causes the users stride to peak in a smoother, more natural elliptical motion. In turn the 25-400 watt, 75 levels of resistance provides the user with complete control of the intensity of their workout and feel the responsiveness of the machine with each step.
The i-Drive control function provides intuitive access to the 20 console programs to vary the users workout simply and effectively while providing feedback in real-time through the upgraded 7" backlit LCD display. Fully adjustable footplates help to tailor the TX3.0 to the users requirements while the built-in dual speakers with MP3 playback make the workout even more personal as the machine works to the beat.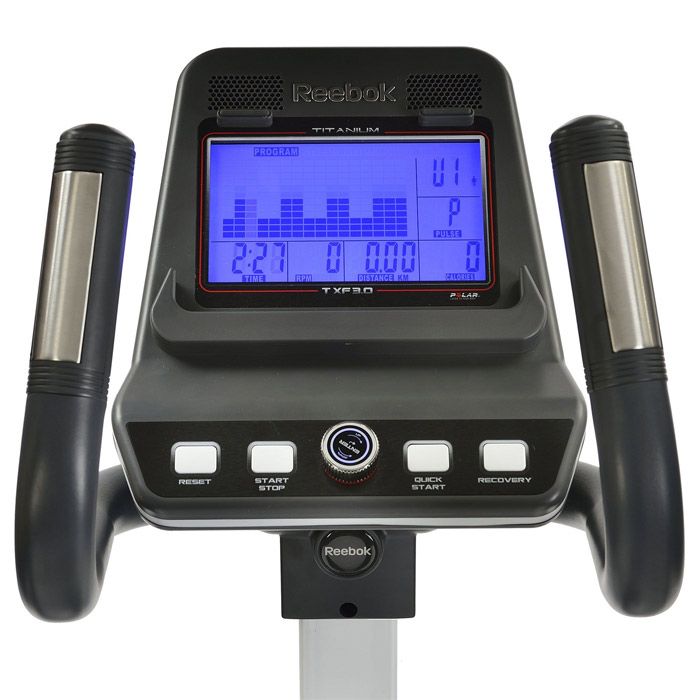 The increased robustness and stability of the TXF3.0 raises the maximum user weight to 145kg providing an even sturdier, stable exercise platform for the tallest and largest user looking for strength and reliability from their fitness equipment.
Bluetooth connectivity enables the TXF3.0 to connect to an Apple or Android mobile device and wirelessly communicate with the front drive crosstrainer. Download the Run On Earth App onto the synced device and choose a route anywhere across the globe. Run on Earth is integrated with Google Maps and lets the user set routes around the world.
For additional motivation music can be played through the consoles dual speaker output, which connects to any MP3 system. .
With our Reebok Titanium Series TXF3.0 Cross Trainer, we are committed to quality which is why we offer a 1 year warranty on parts.
------------------------------------------------------------------------------------------------------------------------------
Bluetooth Dongle
Specifications
i-Drive console system
7″ LCD display with MP3 input and speakers
20 Console Programs include: Manual, Target Time, Target Distance, Target Calories, Watts Control, Heart Rate Control, Fitness Test, Random, Target Zone.
Bluetooth connectivity

Bluetooth Dongle

25-400 watt, 75 Levels of resistance
10kg Flywheel
MP3 Input with Built in Speakers
Bluetooth Connectivity
Wireless pulse receiver plus hand pulse sensors
Adjustable Slip Resistant Rubber Footplates
19.5″ stride length
ICS Intelligent Cadence System
User Profiles: 5
Heart Rate Control
Max User Weight 145kg
Set up dimensions: 168 x 62 x 166cm
water bottle holder
Transportation wheels
Boxed Dimensions: Length=149cm Width=46.5cm Height=89.5cm
Boxed Product Weight 91 kg
1 Year Warranty
IPad is not included