Body Iron Light Commercial Half Rack L500HR
Body Iron Light Commercial Half Rack L500HR
Don't compromise on quality:
The Body Iron L500HR Half Rack is for home use and Light commercial.
Body Iron Light commercial Half rack L500HR might look the same as cheap model out on the market, what you don't see is the quality and strength of the steel and the size of the Half Rack.
Maximum recommended user of weight 600kg not 120Kg Like other models. Some brand on the market say that their products weigh heavy then they are to trick the person buying. They place sand or cement in the steel tube so it weigh more. This will not make your product stronger.
The Body Iron L500HR Half Rack comes with 8 X Storage pegs to hold Standard plates. Also 8 X Olympic Chrome Plates storage pegs to hold Olympic plates.
The Body Iron L500HR Half Rack has 28 hole selection for safety spotter hooks. Other brands have 18 holes because the steel is not as strong.
The Body Iron L500HR Half Rack is 2.5mm steel not 1- 2mm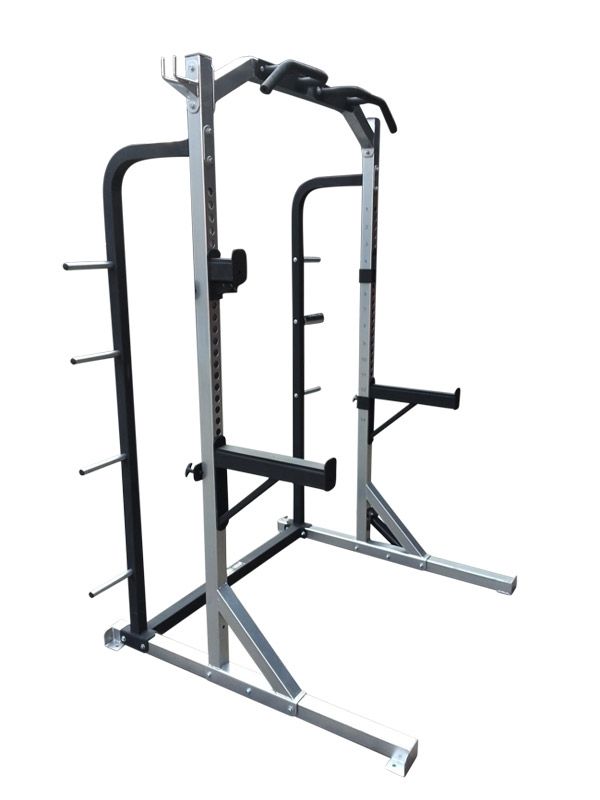 Fitted with standard holders with Chrome Olympic adapters, Can handling serious work-outs. The Body Iron L500HR Half Rack, which helps weightlifters work out safely and efficiently while performing squats, military presses, and more.
When piecing together your very own home gym, one of the last items of equipment that may come to mind is a power rack. However, the correct utilization of such a piece of equipment can produce massive results, it just depends on what exactly it is that you personally are after. A power rack is not something for everyone. The average every day gym goer is more than likely there simply to maintain a healthy level of physical fitness. But those of us who are seeking one thing, and one thing only, then this is when the power rack really comes into play. If you are looking to dramatically increase in sheer size, then this simplistic piece of body building equipment is definitely right up your alley.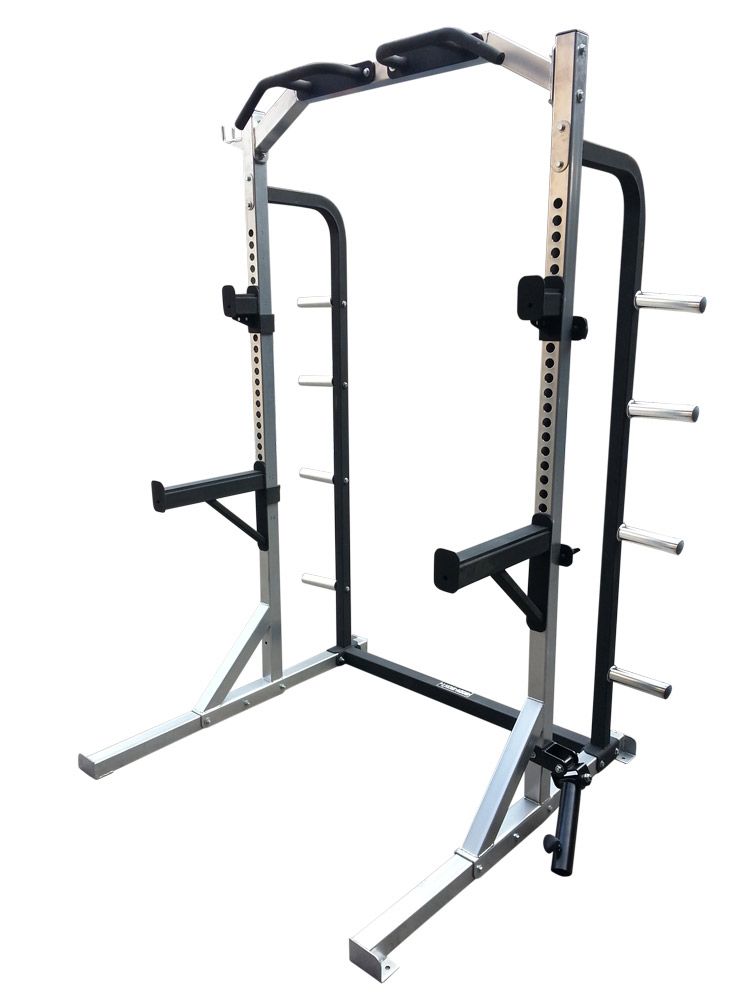 Product Features:
Heavy Duty Construction
Solid Steel Chin Up Bar Mult-grip support up to 300KG
Pair of Barbell Hooks support up to 600Kg
Pair of extra Long adjustable safety spotter hooks support up to 600Kg
8 x storage weight pegs to hold Standard Plates.
8 X Olympic Chrome Plates storage pegs to hold Olympic
Optional Rotational Core Trainer $59 (Sold Out)
Optional Dip Attachment $40
Assembly Dimensions: 131 cm (L) x 161 cm (W) x 215 cm (H)
Approximately Weight of Rack 95KG.
Highest hole from the ground is approximately 70cm.
Optional Dip Attachment $40