Bodycraft LGXP Pro Multi Gym + Free Gift
Bodycraft LGXP Pro Multi Gym
OUR TOP OF THE LINE HOME GYM

Extensive thought went into this one - our goal was to include benefits traditionally only provided from free weight training combined with the simplicity and safety of a home gym. And, we succeeded! Hundreds of available exercises from Traditional Strength Training, to Functional Training, Core Training, Sports Specific and Rehabilitation exercises - the Elite does it all!
The Bodycraft multi-station home gym will suit all dimensions of training.  Fully adjustable to allow for different size users.  Being able to move quickly & easily through the various stations will make your workout more effective with no wasted time. This machine allows placement against a wall as it's space saving design.
Optional Leg Press attachment also available for full leg development.
                Exercise stations include
Press, Row station with adjustable starting point
Bench Press, Incline Press, Shoulder Press, Mid Row
Cable with Adjustable arms for Functional Training, Core Training
Ab Crunch Station
Low Pulley for Low Rows, Abductor Leg Kicks, Arm Curls, Upright Rows
High Pulley for Lat Pulldowns, Tricep Push Downs
Leg Extension and Leg Curl
Optional Leg Press Attachment $899
Specifications
Floor Space:  138.5 x 133 x 212cm

Floor Space With Leg Press Attachment:  190.5 x 185.5 x 212cm
Optional: Leg Press Attachment $999
Pulleys: 3'' diameter Fiberglass impregnated Nylon Pulleys with Sealed Ball Bearings
Cable: Flexible Nylon Coated, 7x19 Strand Aircraft Cable rated at over 2000lbs tensile strength
Cable Attachments:: Included accessories: 2 multi-position D-ring handles, lat pulldown bar, row/curl bar, ankle strap, water bottle, workout DVD & book
Weight stack: 200lbs (91kg)
Frame: heavy 2" X 2" and 2" X 3", gauge steel tubing.
Finish: platinum Gray powder coated finish
Upholstery: double stitched vinyl covering 2" thick, high density foam, contoured for comfortable Lumbar support.
Weight Stack Enclosures: steel weight stack guards provide safety and beauty.
Guide Rods: chrome plated 1" diameter tubular steel
Maximum User Weight :

200kg

Domestic or Corporate Use

Free Gift Platinum JACK RACK PRO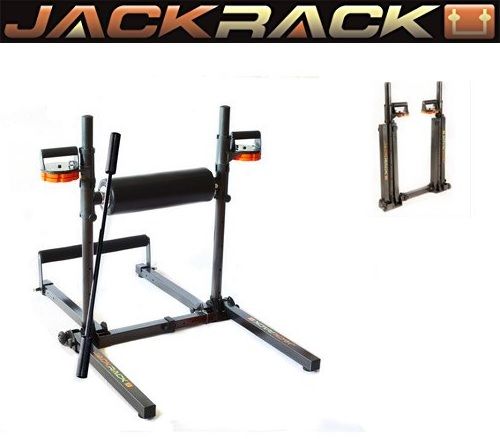 We have been getting a lot of queries about the differences between the JACK RACK as seen on Tv and the Platinum JACK RACK PRO.
Firstly, the JACK RACK as seen on TV is the entry level home use model. In comparison the Platinum JACK RACK PRO is suited for heavy duty commercial environment. The Platinum JACK RACK PRO has fast stack easy clip on weight plates for quick changeover in comparison to the screw on weight plates for the JACK RACK. The Platinum JACK RACK PRO does not include the nutrition plan or the DVD as it is made for commercial use.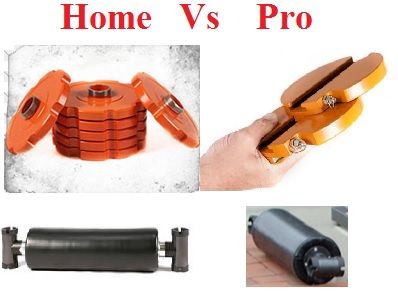 You can use the Platinum JACK RACK PRO at home, in a personal training studio or a fitness Gym. It has wheels at the base for ease of moving around.
Please check out the link below for JACK RACK YouTube channel for Workout Clips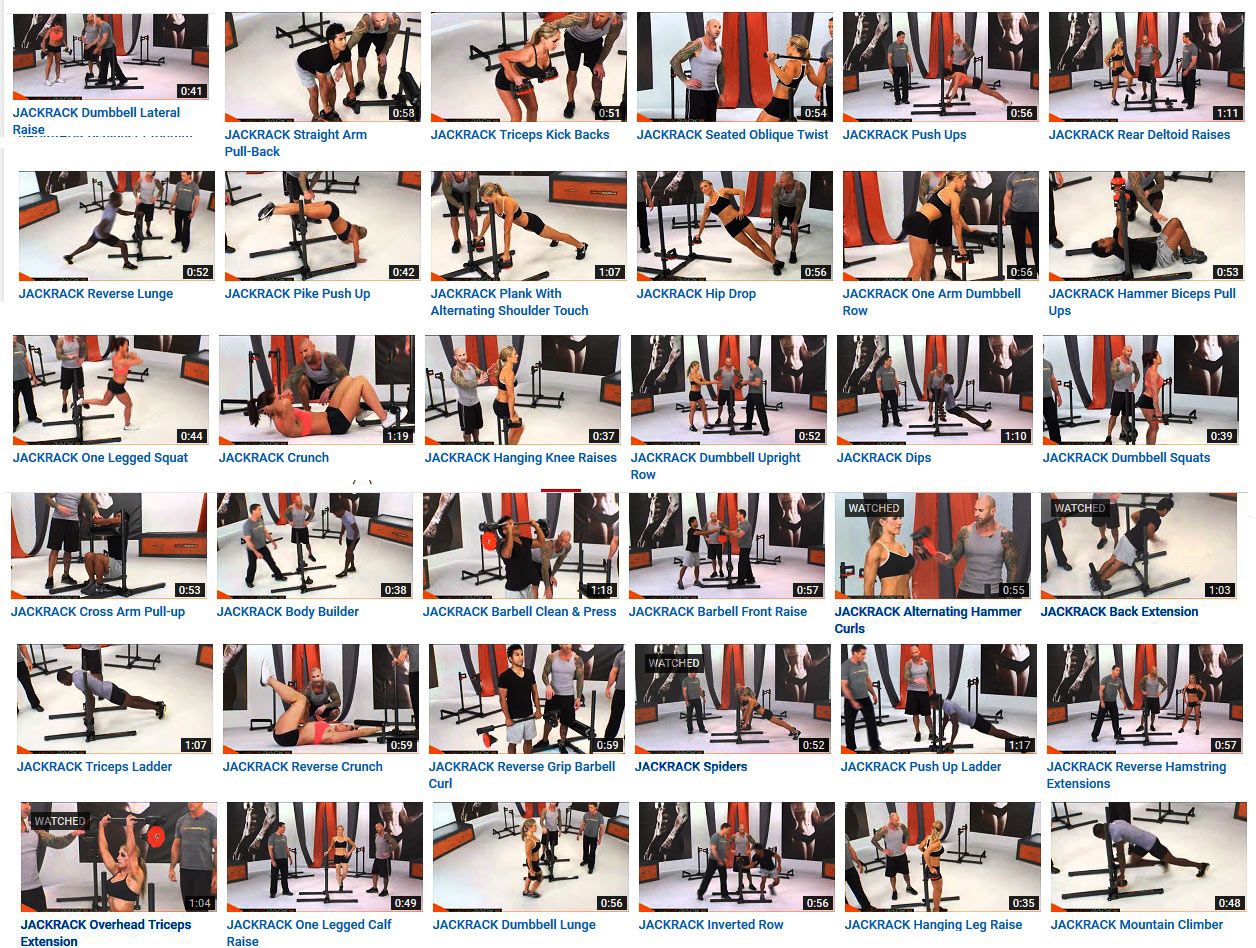 Work out in the comfort of your home with the Platinum Jack Rack Pro. This rack features over 150 exercises to strengthen your upper body, core and lower body. Including a base unit, two hand grips, a padded bar set, a barbell and four weight plates, this all-in-one gym equipment is your first step to total fitness. As seen on Tv. This home gym equipment folds up for easy storage. Collapsible for storage anywhere and offering a complete fitness plan, the Platinum Jack Rack Pro is a smart buy for improving your health.
YouTube clips are for illustrative purposes Only
------------------------------------------------------------------------------------------------------------------------------
Product features:
Base Unit 45 lbs. of heavy duty steel able to support 300 lbs. Adjustable floor pads to accommodate uneven floors Folds up for easy storage Adjustable width to adapt to any body size Gliding wheels for simple mobility.
Hand Grips Hand grips convert to dumb bells with the addition of 5 lb. weight plates. Each hand grip can hold up to 10 weight plates for a total of 55 lbs. on each side. "Speed Trigger" for rapid adjustments Can rotate 360 degrees; "Turn & Burn Technology" Solid steel construction Foam rubber handles for comfort and secure grip Ability to attach additional 5 lb. weight plates to create dumb bells.
Padded Bar Set 8-inch diameter foam padded bar with durable vinyl cover Quick-release pin to convert to roller bar for crunches and jackknives Quick-release pin to convert to roller bar for crunches and jackknives Foam padded foot bar delivers comfort and stability Quick-release pins accommodate rapid transition from one workout to the next Supports body weight and repetitive lifts and pulls.
Weight Plates Four 5 lb. weight plates with "fast stack" technology allow for rapid resistance transitions Constructed of solid steel Easy to remove and load on as your endurance grows.
Barbell Welded steel construction Molded speed clips for fast transition Non-slip grips for easy lifting and pulling.
------------------------------------------------------------------------------------------------------------------------------
Unit Comes With:
Pro Base Unit
Barbell
Padded Bar
Hand Grips
6 Weight Plates
YouTube clips are for illustrative purposes Only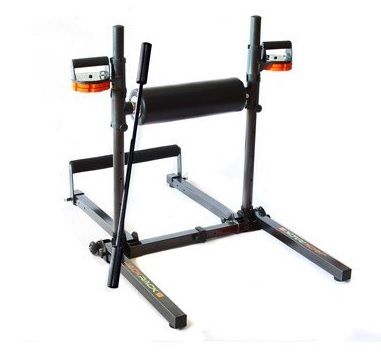 ------------------------------------------------------------------------------------------------------------------------------
Carton Dimensions:
105 cm x 27 cm x 65 cm 29kg
25 cm x 25cm x 20 cm 10.5Kg
87 cm x 22 cm x 29 cm 7.7Kg
112 cm x 28 cm x 16 cm 13.8Kg